WELCOME!
To The Chesapeake Curling Club
Want to try curling? Here's your chance!
Open House dates are available to try curling. March 1, 3 and 4.
Our family came to a Learn to Curl at Chesapeake Curling Club two years ago and it was love at first slide.  Like many others, we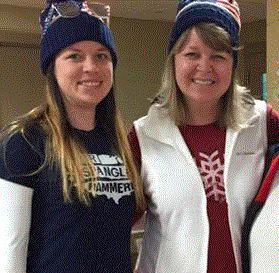 were fascinated about the sport of curling and we had watched it on the Olympics for years.  When we discovered we could actually try our hand at delivering and sweeping a stone we jumped at the chance.  We came for the sport but stayed for the people. Curlers are some of THE nicest people on the face of the planet and the members at Chesapeake are welcoming and supportive.  Curling is as much about socialization and camaraderie as it is about rich tradition and the spirit of competition.  Curling is also an adaptive sport that can be played well into the golden years.   And if none of this convinces you to come out and give curling a try, consider the look on your friend's faces when you tell them that you projected a 42 pound piece of solid granite 125 feet across a sheet of ice…all by yourself…epic bragging rights will be yours forever! 
Dana Weisgerber
The Chesasapeake Curling Club is now accepting registrations for our 2019 Funspiel. January 17 - 21, 2019 $400 Team Fee Our famous oyster bar Your favorite 70's game shows
read more
You've always wanted to try it
How about checking out our next public event?