WELCOME!
To The Chesapeake Curling Club
2020/21 Season Update
To Our Chesapeake Curling Club Family and Friends,
This is the announcement we are sure most of you were expecting and we regret having to post it.
After much deliberation, the Board has determined it is neither prudent nor safe to have a 2020/21 season this year due to the Corona virus.  Over the last several weeks and months, we have been discussing the season and all aspects of the effect of the virus. It boiled down to three main factors:
Safety – This was paramount, we looked hard at how we could safely curl considering such items as two sheets only, masks required, only one sweeper per team, as well as all CDC suggestions.
Financials – While the club is in very good shape financially, the inability to hold our usual fund raising bonspiel events and the denial from the County to temporarily reduce our rent due to Covid hardship would have severely affected our strong financial standing.
Member input – Many of you did provide responses to the poll last month. While we didn't achieve 100% participation, the Board felt we received sufficient input (over 50% of members replied) to extrapolate the data to make an informed decision. The poll results were running approximately 2/3 against to 1/3 for curling.
Even though we are not having a season this year, there are still some items the Board needs to address, such as member dues, GNCC dues, insurance, election of officers, etc.
The Board has decided that no membership dues will be required this year. If you were a member in good standing at the end of 2019/20 season, you are still a member in good standing.  However, in lieu of dues, the Club will be accepting donations towards the purchase of reusable Hack to Hack mesh curling sheets. These sheets will replace the current paint process which is time consuming and not good for the environment nor the plumbing.  Donations in any amount are gratefully appreciated.
To say we are disappointed is an understatement, but for the safety of our members and future financial viability of Chesapeake Curling Club the 2020/21 season is canceled.  Thank you for your input during this process.  We will keep in touch in the coming months and we wish you and your families health and safety during the holiday season.
Yours in curling,
The Chesapeake Curling Club Board
Click for more information on Hack to Hack
Click to make a secure donation
2020/21 Learn to Curl sessions postponed
Our 2020/21 Learn to Curl sessions are postponed this season. Check back in the fall for our 2021/22 dates.
Our family came to a Learn to Curl at Chesapeake Curling Club two years ago and it was love at first slide.  Like many others, we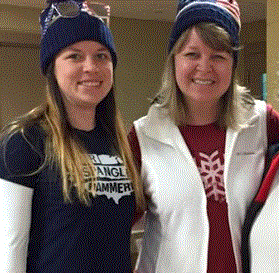 were fascinated about the sport of curling and we had watched it on the Olympics for years.  When we discovered we could actually try our hand at delivering and sweeping a stone we jumped at the chance.  We came for the sport but stayed for the people. Curlers are some of THE nicest people on the face of the planet and the members at Chesapeake are welcoming and supportive.  Curling is as much about socialization and camaraderie as it is about rich tradition and the spirit of competition.  Curling is also an adaptive sport that can be played well into the golden years.   And if none of this convinces you to come out and give curling a try, consider the look on your friend's faces when you tell them that you projected a 42 pound piece of solid granite 125 feet across a sheet of ice…all by yourself…epic bragging rights will be yours forever! 

Come and try your hand at this exciting sport – it's both fun and challenging!! Beginners quickly get going on the ice and have a great time – right from the start.
SOLD OUT! Registration for the 2020 Delmarvalous Doubles Bonspiel is now full! Feb 28 - Mar 1, 2020 $150 Team Fee Four Game Minimum Heavy hors d'oeuvres on Friday, continental breakfast, lunch, and dinner on Saturday, and brunch on Sunday.
read more