The Delmarvalous Doubles Bonspiel!
February 25-27, 2022
Love curling doubles?  So do we!
This bonspiel is designed to be played over a weekend to save a travel day for our out-of-town guests.  It is limited to 16 teams.  And our location in Easton, Maryland makes for easy travel throughout the Mid-Atlantic region.
Draws begin Friday night, with a 4 game guarantee.
Heavy hors d'oeuvres, on Friday, continental breakfast, lunch and dinner on Saturday, and brunch on Sunday.
Visiting teams: Registration opens 12/12 at 12pm. Just $180 per team. Once the event is full, please email [email protected] to be added to the wait list.
Chesapeake teams: Members should email [email protected] if you are interested in being added to the registration pool. Priority will be given to those who aren't playing in the Funspiel. Members will be notified once teams are drawn.
---
Need a hotel?
Holiday Inn Express is the official partner hotel of the Chesapeake Curling Club.
Located just minutes away at 8561 Ocean Gateway Route 50 , Easton, Maryland 21601
Click here for group rates.
SOLD OUT!
PLEASE EMAIL US IF YOU'D LIKE TO BE ADDED TO THE WAITING LIST!
THANKS TO ALL OUR CURLING FRIENDS FOR YOUR SUPPORT!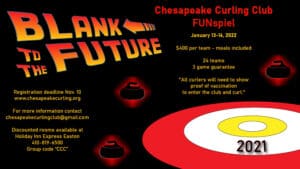 GREAT SCOTT! FUNspiel is BACK!
24 Adventurous Teams are invited to join us as CCC goes
BLANK TO THE FUTURE
to play the 2021 FUNspiel.
January 13-16, 2022
Registration for this epic ride opens 10/10 @ 10am
For more information, click here to head to the registration page.
"Your can make your future whatever you want. So make it a good one!" – Dr. Emmett Brown
In February, the Chesapeake Curling club holds its annual in-club bonspiel named for one of the founding members of the club, Bill Miller. The Miller Bonspiel is a one-day event, open to full members of the Chesapeake Curling Club. The winning team names are inscribed on the Miller trophy and a pin is awarded to each of the four team members.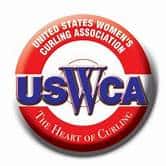 DOWNLOAD DRAW SCHEDULE: 2021 Womens Program
Chesapeake Curling Club is excited to host 
The 2021 Women's Mid-Atlantic Bonspiel
December 2 – 5
Registration opens 9/30 at 9pm
$360 per team – meals included
*All curlers will need to show proof of vaccination to enter the club and curl.
Please contact [email protected] for more information
or click here to start registration.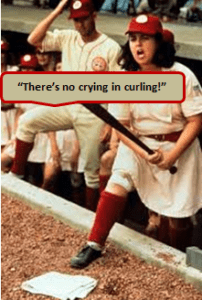 Discounted rooms available at
Holiday Inn Express, 410-819-6500, Group Code "MAC" or click this link.
For reduced rates, reservations must be made by Nov. 29, 2021.
"Traditionally, before the final draw of a bonspiel, a bagpiper leads the teams participating in the final draw onto the ice, and then everybody takes a shot of Drambuie (or ginger ale). Isn't curling silly? Actually, it is kind of neat to watch. It was worth sticking around for." – Chris Allen
Bonspiels offer curlers from around the world the opportunity to get together, compete against one another, and help grow their local curling clubs through increased exposure.
Almost every curling club in the world hosts at least one bonspiel (curling tournament) annually. Bonspiels usually span anywhere from 2-4 days. Any number of teams from around the world could compete, however typically most tournaments are open to a total of 24 to 48 teams.
The teams are placed into brackets and play multiple games over the course of the tournament. These events vary widely in terms of competitiveness.  There are some which award large cash prizes to winners but more likely you'll win a coveted gold pin and have your names immortalized on the bonspiel trophy. But the real reward comes in doing what you love, meeting other curlers, and just having a blast.