The 2020 Women's Mid-Atlantic Bonspiel will be held at Chesapeake Curling Club December 3-6, 2020.
Registration opens 9/9 at 9am.
Please contact midatlantic@curldc.org or check back for more information on this year's event or message us at info@chesapeakecurling.org if you'd like to be added to the interest list.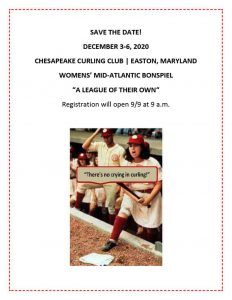 The 2020 Funspiel is SOLD OUT
Teams really embraced the theme, "The Amazing Raise", but contact us at info@chesapeakecurling.org to be added to the waiting list. 
Be sure to sign up for our mailing list below – we'll email you when future registrations open (always on 10/10 at 10am)!
Our newest bonspiel, The Delmarvelous Doubles, returns February 28 – March 1, 2020. No gimmicks, just curling, warm room table games, and socializing. 
Registration opens on 12/12 at 12 noon but don't let that stop you from signing up for a reminder below. The spiel kicks off with first draw times on Friday night. 
In February, the Chesapeake Curling club holds its annual in-club bonspiel named for one of the founding members of the club, Bill Miller. The Miller Bonspiel is a one-day event, open to full members of the Chesapeake Curling Club. The winning team names are inscribed on the Miller trophy and a pin is awarded to each of the four team members.
"Traditionally, before the final draw of a bonspiel, a bagpiper leads the teams participating in the final draw onto the ice, and then everybody takes a shot of Drambuie (or ginger ale). Isn't curling silly? Actually, it is kind of neat to watch. It was worth sticking around for." – Chris Allen
Bonspiels offer curlers from around the world the opportunity to get together, compete against one another, and help grow their local curling clubs through increased exposure.
Almost every curling club in the world hosts at least one bonspiel (curling tournament) annually. Bonspiels usually span anywhere from 2-4 days. Any number of teams from around the world could compete, however typically most tournaments are open to a total of 24 to 48 teams.
The teams are placed into brackets and play multiple games over the course of the tournament. These events vary widely in terms of competitiveness.  There are some which award large cash prizes to winners but more likely you'll win a coveted gold pin and have your names immortalized on the bonspiel trophy. But the real reward comes in doing what you love, meeting other curlers, and just having a blast.

No Results Found
The page you requested could not be found. Try refining your search, or use the navigation above to locate the post.